Rhythmic Gymnastics: Upcoming Olympic Competition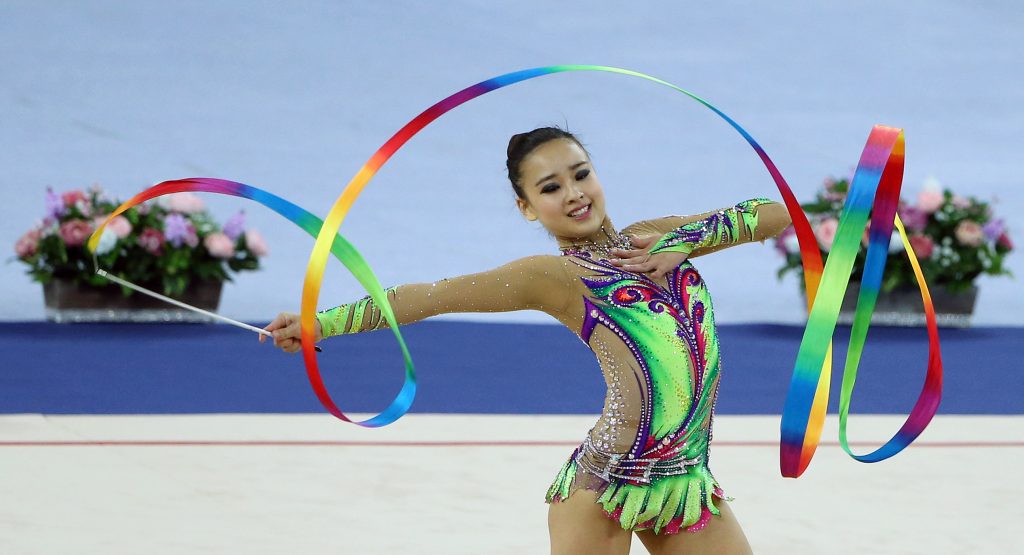 As the Rio Olympic Games roll along, we get closer and closer to sport's parallel to flow arts - the Rhythmic Gymnastics competition!
This year the Individual Competition will take place on August 19th and 20th, and the Group Competition will take place on August 20th and 21st.
This quad the individuals will compete in ball, hoop, ribbon and clubs. Of these, many gymnasts consider clubs the most difficult, as there are two props to manage.  They are also heavy, which can make it intimidating to learn skills where the clubs closely pass the face.  The event left out of this year's competition is rope.  However, junior athletes (those 15 and under in the Olympic year) have still trained this apparatus, as it will return for the next cycle.
The group event includes teams of five members.  Each group will compete with two routines.
The 1st set will use five ribbons, and the second set will include two hoops and three sets of clubs.
Of note for Americans, they have qualified a team for the first time to the group event this Olympiad! You can read more about them here:
As mentioned above, the apparatus competed for the groups changes every quad; with one routine using a single apparatus, and the second routine being mixed apparatus. Since many of us in ICC are hoop dancers, the community may be interested in knowing that five hoops was an event in the 2008-2012 quad. While we couldn't find much high definition video from that cycle, you can enjoy a slightly grainy view of Belarus's loveliness here:
Historically, Rhythmic Gymnastics has not received much television coverage during the games.  Therefore, we are betting the best way to see the meet will be online. If you live in the U.S. and you have a cable plan that includes NBC Sports, you can see the events here:
We hope this information will excite the community and get us ready for the upcoming competition!
Infinite Circles will be posting a few more pieces about Rhythmic Gymnastics during the next few days, to help you stay informed. Follow the ICC fan page for daily updates from the community, or visit the home page where all new content will be featured.
About Our Writer
Lizzy Ellis is a Certified Hoop Love Coach, USA Gymnastics Instructor Member, and Infinite Circles Community Admin. You can read more of her thoughts on beautiful movement at Flying Trapeze Blog.
Featured image credit:
Incheon Asian Games 2014
Gymnastics Rhythmic
Son Yeonjae of South Korea performs during the gymnastics rhythmic individual final at the 17th Asian Games in Incheon, October, 1 2014
Official Photographer : Jeon Han