About Infinite Circles Hula Hoop Community
What is Infinite Circles?
Infinite Circles is the largest community of hoop dance enthusiasts online. Each day hundreds of people share with, teach, and uplift each other from around the world.

ICC is used as a global hub to connect all sorts of artists within the world of spinning things wildly. Modern hoop dance has deep roots in all kinds of physical disciplines, from the elegant Circus arts, disciplined martial arts, technical prop manipulation, and rhythmic gymnastics - we have an appreciation for all within the community. We believe there is tremendous value in cultivating the art through its communities. And we seek to maintain a focused and supportive atmosphere in which any prop spinner can be educated on and guided through their journeys.
This Defines Us

And that's what makes us special, we were founded on the principle of unity. 
The belief that despite our different locations, skills, religions, politics, professions, spirituality (or lack of), our shared passion is what brings and keeps us together. Under this guiding principle Infinite Circles is growing the most diverse and robust community in support of legitimizing flow arts as a healthy, accessible and fun sport, hobby, spiritual practice or profession.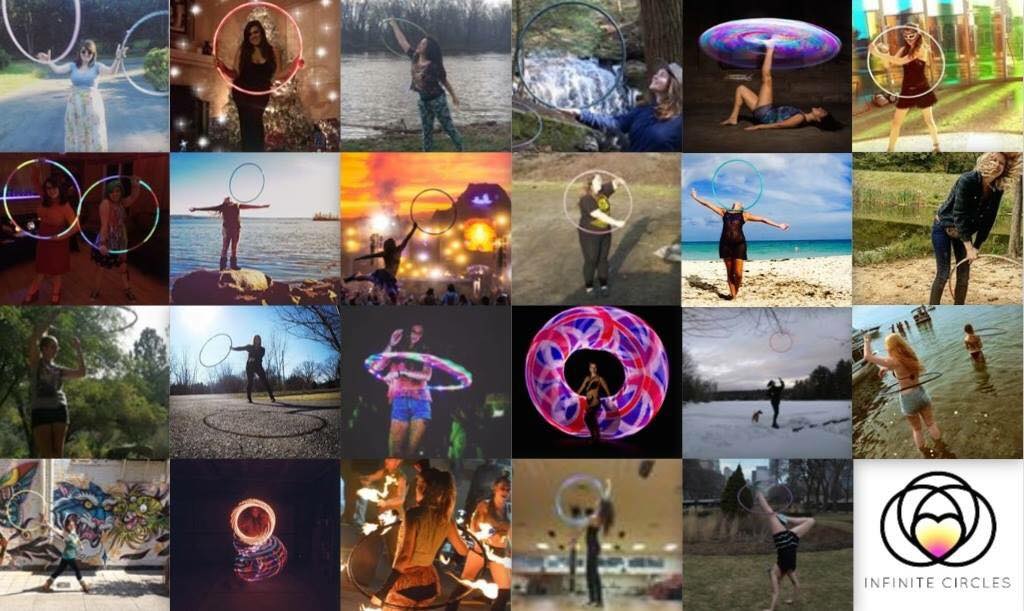 We have a vibrant and active community that you are invited to join.
Filled with people just like you from beginner to world class athletes who have taken up the challenge, art, and lifestyle that hooping represents.
Las Vegas performers, professional dancers, quiet but passionate hobbyists, shop owners, instructors, these are all extraordinary people with talent, curiosity, and a desire to enjoy the art we create together.
If you want to grow as an artist an incredible step would be to join us on Facebook.
Want to Support the Infinite Circles Community?
If you agree with this vision and want to show support you can visit Jenn Handmade, a 5-star shop on Etsy.com.
Store items are all based on the flow arts and hoop dance. Purchases from Jenn Handmade often help artists, performers, and photographers in the Infinite Circles Community.
A portion of the money from these Infinite Circles products goes back to community events, new products, and furthering the Flow Arts movement.
Featured image was submitted by IC member Stephanie F.